A Perfect Moment In 2002



Towards the end of the summer last year I was contacted by Joan Lynch, who is the president of the Peter White Fan Club, with news that Peter was coming to London in October and would be playing a number of nights at the Pizza Express Jazz Club in Soho. Would I be kind enough to give a mention about the gigs on the Soft Jazz website? Naturally I was happy to do so (chuffed to be asked in the first place would be nearer the truth). My efforts got me a whole host of thank you's, including one from Peter himself, so I felt quite pleased to be part of the proceedings. I arranged to meet up with Joan for lunch when she arrived in the UK, and looked forward to seeing Peter live.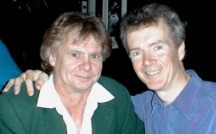 The lunch wasn't really all it could have been. Having managed to fight my way through the London West End traffic to meet Joan at her hotel in Tottenham Court Road, I spent the next hour trying to find a route back into Central London that wasn't gridlocked, and failed. We ended up having a sandwich and a coffee at Caffe Nero in Notting Hill as time was running out. I dropped Joan at Harrods and arranged to meet her again at Pizza Express Jazz Cafe that Sunday. Which was to be Peter's final night there. I got there early on the night as I been promised a meet with PW before the gig, and after we had a 20 minute chat about various things, not least of which was the definition of smooth jazz (he says the term was invented by the radio industry. He's probably right), my wife and I then met up with two other friends that had come along for the show. We were showed to our table where we sat down and ordered some pizza's and some booze.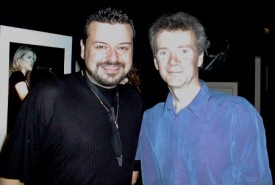 Peter was accompanied by Jaared for the tour (amongst others). I'd never met Jaared before either, and he turned out to be equally as charming (you'll note that he's also a dead ringer for Riker from Star Trek, The Next Generation). Also playing that night was Jeanne Newhall on keyboards. Both artists have current albums in their own right, both also have tracks featuring Peter too. Needless to say both are now part of the Soft Jazz playlist. I guess it was an evening of firsts for me, as I'd never been to the Pizza Express Jazz Cafe before. It turned out to be the perfect venue for this sort of show. It's not particularly large, but that intimate atmosphere is ideal for an evening of smooth jazz (oops sorry Peter, there's that word again). Although I guess that would also be somewhat down to the talent of the artists on the night. As I'm about to report, there were to be no worries in that area on that particular evening.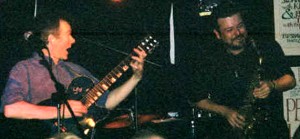 Excellent falls far short of describing what followed. Quite aside from the wealth of talent present that night, it's clear that after nearly thirty years or so in the business one learns a trick or two, and Peter obviously wrote the book. It's always a pleasant surprise when an artist has a personality too, and Peter's dialogue throughout the show was dressed with warmth and humour, and he and Jaared looked like they'd been working together for years. Faultless renditions of Peter's greatest hits that were all a pleasure to behold. I realise that I may be somewhat biased, but everybody in my party was completely knocked out by the evening.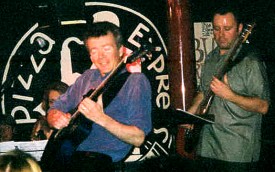 Occasionally Peter and Jaared would leave the stage and go walkabout, and with the venue being the size it is, I don't think there was a single table that didn't get personally serenaded at some point. Joan had told me earlier in the week that she always cries at Peter's concerts (and she pretty much goes to ALL of them), which I thought at the time sounded a bit "wet". However I must confess that there was one moment during a stroll through the audience when he went up to a table at the rear and played exclusively to his mum that I felt a tear in my eye too. I felt myself going again when his little daughter Charlotte was magically produced from a side door during another walkabout, and PW simply threw his guitar over his shoulder and just stood there grinning, holding her in his arms while the band played on. I realise now that the man is a dab hand at bringing out emotions. It's evident from his recordings I know, but live it's a stronger thing altogether.

Take it from me, the man from Letchworth is a class act. There was plenty of variety too. During the encore we even got a few bars of JB's "Sex Machine", AWB's "Pick Up The Pieces" and much more besides. He was even decent enough to give Soft Jazz.co.uk a mention during the proceedings too (to a small ripple of applause, so maybe this site did put a few bums on seats in the end).

I do hope he's going to come back and do it again in 2003.

JK